23
03
2009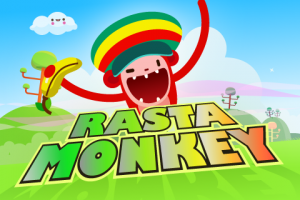 Rasta Monkey is a 2D platformer where you play as a (gasp) monkey swinging in the trees trying to collect fruit to make smoothies. It uses a nice little physics engine to accomplish jumps, swings, and some puzzles. You'll have to contend with monsters and some tricky jumps to finish each level.
The game only comes with 10 levels, two of which are tutorial levels. The levels aren't very long, though they do have a lot of variety. Each level you are given a set amount of each type of fruit to collect. The game definitely doesn't make it hard to collect these fruit, and a lot of the time you'll find you've collected more than you needed. It never penalizes you for falling out of the trees, which is a huge relief in some of the harder areas. All it will do it set you back to your last checkpoint, which are never too far off.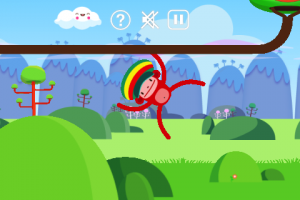 The controls work surprising well. You hold the the corner of the screen where you wish to go, and hold with two fingers to swing on the branch. If you let go of both fingers at the same time you'll jump, or you can abort the jump by letting go of one finger at a time.
The art is cartoony and colorful, which fits the game very well. The music, even though there seems to only be two songs, are catchy and, at worst, can just be turned off.
The only downsides to the game are its intermittent slow-downs and some frustrating monsters you face later on in the game. On my first generation iPod Touch when the camera zoomed out I'd occasionally run into a frame-rate drop. It wasn't terrible, it was still playable, though it does makes the game feel buggy. Lastly, certain monsters are just plain annoying to get past. Some are big and move fast, and constantly knock you off the branches. It gets tricky, you either have to move fast and nail the jumps to avoid them, or get lucky and have the monster boot you in the right direction.
For the (currently introductory) $1.99 price tag it is definitely worth the couple days of fun you'll get from this game. It isn't a huge amount of content, but the actual game has a lot of variety and was put together very well.