23
03
2009
Below are a number of screenshots leaked from the recent seed of iPhone OS 3.0 to developers.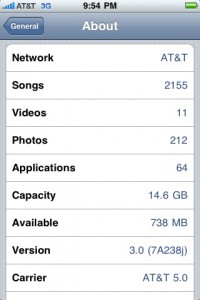 After the jump is a huge gallery illustrating some of the most significant changes in the iPhone 3.0 OS. The anonymous tipster who submitted the following images noted that the build is plagued with a few bugs, but nothing too serious.


Screenshot notes, in order of appearance:
*Lock screen displays album art and song title (where date normally appears) when playing a song in iPod
*Shake to shuffle implemented
*Voice Memo application allows of recording of voice, can be emailed or even trimmed later
*Voice Memo recording listing, showing "Email Voice Memo"
*Restrictions is now expanded to include a number of new services and options
*Searching in iPod application
*Pasting in Safari Google search field
*App Screenshot viewer in App Store
*Cut, Copy and Pasting in Landscape Mail
*Voice Memo listing
*Trimming of Voice Memos
*Expanded Restrictions
*Landscape Stocks view
*iPhone Home Screen with new iPod, Phone and Messages icons
*Spotlight Searching in left Home Screen
*Safari Preferences showing Fraud Warning and AutoFill
*Downloading iTunes files over 10MB over 3G network
*Landscape editing in Mail
*New text selector glass
*Copy items in Safari
*Fetch New Data menu now within Mail Settings
*Internet Tethering option in Network Settings
*Voice Memo sharing via Email
*Share Contacts via Email
*Displaying Number location in Recent Calls
*Voice Memo recording application
*About menu showing 3.0 and build number
*Messages Setting Page, showing MMS
*Safari Menu with Open, Open in New Page and Copy
*Cannot connect to YouTube error
*MobileMe Find My iPhone option
*Searching Mail in Landscape
The iPhone OS 3.0 upgrade contains dozens of changes to the already maturing iPhone OS. Not only does it add some of the most requested features like Copy and Paste and MMS, but new changes and features that pushes Apples iPhone OS software into the future. Now we can all await the forthcoming iPhone 3 this summer. A big thanks to the anonymous tipster for the screenshots!