19
03
2009
I had the opportunity to attend the grand opening of the new Sony Style store and Comcast Labs, located in the Comcast Center (Comcast's main corporate headquarters) at 17th and Market in Philadelphia.

The Comcast Center is also home to "The Market at Comcast Center", a area with a bunch of food stalls and shops, and "The Comcast Experience," a 2,000 square-foot LED screen, with a resolution 500% greater than that of an HDTV. The Sony Style store / Comcast Labs is accessed through a large staircase in the main Comcast Center building, near the giant LED screen. You can see part of the entrance stairway and the LED screen the photo below: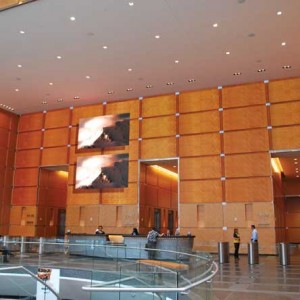 You can also access it from the Market entrance, either way, you have to go underground, but it is wheel chair accessible.
We will take a look inside the store and lab, after the jump.
Read more…
Comments :
1 Comment »
Categories :
Random