12
06
2008

For the second year in a row, Apple will be hosting the 2008 WWDC Bash at Yerba Buena Gardens in San Francisco. Beginning at 6:30 PST, the event will have live music and food to celebrate a hard week of work and draw closure to WWDC 2008. The party is currently scheduled to end at 9:30 PST and it is unknown who the live music will be provided by. As always, stick with theiLife.com for the latest coverage, as Sidney San Martin will be in attendance of the WWDC Bash tonight. Photos and text updates to follow!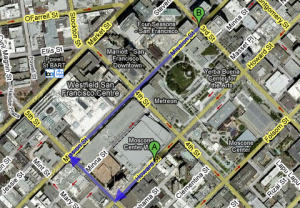 From Apple:
Below are important details for tonight's WWDC Bash at Yerba Buena Gardens.
Wristbands—If you intend on enjoying beer or wine this evening, you will need to pick up your wristband at any Registration Counter on Level 1 before going to the Bash. Please bring a government issued photo ID and your conference badge.
Entrance to the Bash at Yerba Buena Gardens—Please enter Yerba Buena Gardens on Mission Street, between Third and Fourth Streets (Fourth Street runs between Moscone West and the Sony Metreon). You must be wearing your conference badge to be admitted to the Bash.
1:59PM PST: Just after Lunch here at WWDC, more sessions are beginning and I have obtained not obtained my wristband to get into tonight's party (that's only for 21+ attendees)! More content coming soon.
7:38PM PST: Arriving at WWDC bash, new photos posted! Check the liveblog at live.theilife.com!!
Gallery after the jump!
The good pictures are stuck on Sidney's camera. A new hard drive for him is in the mail and they'll be showing up soon.