12
06
2008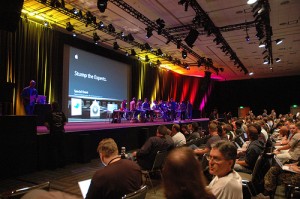 Stump the Experts is one of the highlights of a WWDC experience. Stump the Experts is the most popular session at WWDC- by far. TheiLife.com is bringing coverage from this years event in the form of transcribed text and photos. In the meantime, for those who aren't familiar with how the game is played (via Wikipedia):
Stump the Experts is structured as a game show in which the audience acts as one team, and the experts on stage are another. The audience may ask the experts any question related to Apple in an attempt to "stump" them, hoping to earn a point for their team. Conversely, experts may ask the audience questions that any audience member may try to answer. Any and all resources are allowed including source code, the Internet (e.g., Wikipedia & Google) and cell phones. Host Fred Huxham describes it as an "open book test".
Stump the Experts is chaotically hosted by Fred Huxham and Mark "The Red" Harlan.
There are three types of questions (via Wikipedia):
Songs – The 7-8 songs played before Stump the Experts begins are chosen by Fred, the leader of the show for the past 15 years. Audience members may come up to the microphones and guess the artist and name of the songs to win prizes and get points for their team.
Images – The experts create cryptic images that represent Apple-related phrases or information. The audience must decipher the image's meaning. This innovation was introduced by Craig Marciniak in 2006.
Standard – Questions about arcane Apple knowledge.
Sidney San Martin from theiLife.com is attending the 2008 Stump the Experts and will be transcribing some of the questions as well as bringing back photos. Check back soon.