9
06
2008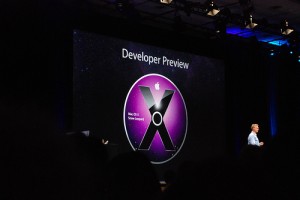 What started as a rumor, then revealed at the WWDC Keynote: the next iteration of Mac OS X, version 10.6 will indeed be called Snow Leopard. Snow Leopard will "..build on the incredible success of OS X Leopard.." by "..focusing primarily on new features, Snow Leopard will enhance the performance of OS X". Rumors say that this means no PowerPC support, and could possibly mark the end of existence for Carbon UI.
Apple says that by optimizing the new OS X for multi-core processors and tapping into the potential of graphic processing units (GPU) OS X become faster and more reliable and allow more vast amounts of RAM. Additionally, Snow Leopard will ship with Microsoft Exchange support out of the box and features QuickTime X, a "new, modern media platform".
According to Bertrand Serlet, Apple's senioer vice president of Software Engineering:
"We have delivered more than a thousand new features to OS X in just seven years and Snow Leopard lays the foundation for thousands more". "In our continued effort to deliver the best user experience, we hit the pause button on new features to focus on perfecting the world's most advanced operating system."
Using new technologies, coded named "Grand Central" future developers will be able to take full advantage of multi-core processors. Also, Open Computing Language (OpenCL), based off the C programming language, will allow for applications to 'tap' into the power of the GPU- which is typically reserved for graphics applications. Snow Leopard, thanks to 64-bit technology, will be able to support system memory up to a theoretical 16TB of RAM.
According to Apple, QuickTime X optimizes support for 'modern audio and video formats' which will result in more efficient media playback. Snow Leopard will include Safari with improved JavaScript implementation, which can be up to 53 percent faster- allowing heavy Web 2.0 applications respond faster. Microsoft Exchange 2007 support will be integrated into upcoming versions of Mail, iCal and Address Book.
The Mac OS X State of the Union address took place today at 2:00 – 3:15 PM at Presidio. You can read more about Mac OS X Snow Leopard here.
Check more the pictures below!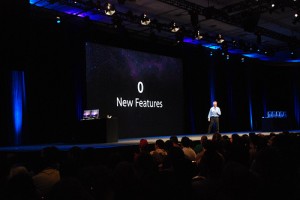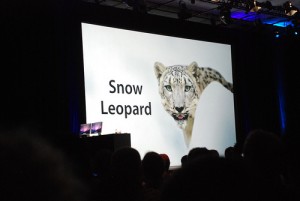 Comments :
No Comments »
Categories :
News
,
OS X
,
WWDC 2008