9
06
2008
During todays WWDC keynote, Phil Schiller revealed the successor to Apple's .Mac service, titled MobileMe. Speculation has been rampant in the past weeks concerning Apple's aging web service, and many reports of trademark filings and software references had been made the term 'MobileMe'.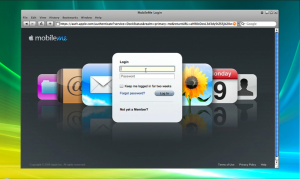 The new service is a three part suite, that is targeted at the mobile OS X platforms for the iPhone and iPod touch, natively coded calender and email clients, and a multi platform capable web based suite that contains an email client, iDisk, and media sharing. Information can be added to the iPhone and automatically synced with your MobileMe account, allowing you to access contacts, pictures and email from anywhere.
The web based client is notable for its extremely slick Ajax based interface, that is highly reminiscent of a native OS X application. The web app allows drag and drop objects, object animations, instantaneous spotlight style searching and photo album managing. Photos are also available onto the Apple TV's photo viewing application, and can be managed and viewed in iPhoto, selected from a new MobileMe menu. Updates for Mail, Address Book, iPhoto and the Apple TV are likely pending in order to integrate the new features into these applications.
iDisk capacity has been doubled from 10GB to 20GB, and is available for access from within the web based client, OS X's finder, and is mountable as a network drive in Windows Vista.
MobileMe will be launched in early July with a 60 day free trial, after which there will be a $99 subscription. A guided tour of MobileMe is available at Apple's website.