19
06
2008
Since the release of the 3G iPhone at WWDC last week, there are still many questions unanswered and speculation regarding the new iPhone.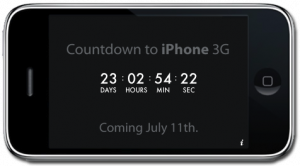 This years WWDC keynote brought us the hotly anticipated 3G iPhone. Aggressively priced at $199, it is clear that Apple wants to take on the smartphone market and get iPhones in more hands this year. True to some rumors, the new iPhone is launching for $199 in 22 countries later next month. Thanks to subsidization by AT&T and the other official iPhone carriers in other countries, Apple was able to cut the price of the iPhone in half.
While this is ultimately a win-win situation for both AT&T and Apple, it could cause some consumers headaches. One of the greatest parts of the iPhone started with the privilege to activate at home through iTunes. This slick implementation of Apple's existing software allowed for consumers to avoid the hassle of activating your phone in the store- and for Apple employees to quickly sell more iPhones, Macs or iPods.
Although it is still preliminary speculation at this point, it seems that because of the subsidization, In-Store activation is going to be required. This means that if you want to buy an iPhone, you must purchase the phone and activate in the store regardless if you're in an AT&T store or an Apple Store. During busy times, such as the holiday season or during launch day, July 11th, this could mean many Apple Store employees being tied up with activating iPhones instead of helping other customers with Mac or iPod sales- which just leaves both sides aggravated.
It also means that the unlocked market is going to suffer. Because Apple gave consumers the liberty to purchase the hardware without any binding contract, many people took their iPhones onto other GSM networks such as T-Mobile. It is believed that over 500,000 iPhones have been unlocked and brought onto other networks around the world. This time around, because AT&T is paying for a portion of the iPhone hardware, requiring immediate, ins-store activation would make sense to further deter these people from bringing the iPhone to other networks.
However, some theorize that since Apple already requires a credit card for an iPhone purchase, they could charge AT&T's subsidization amount back to their card if the phone wasn't activated within a certain period of time. This could allow Apple to continue to activate phones through iTunes, but keep AT&T from loosing money.
Because there hasn't been any official announcement, theoretically, we won't know for certain until there is. The iPhone 3G is set to launch on July 11th. If you can't wait, check out our new dashboard widget. Stay tuned for more information regarding the launch and launch coverage of the new 3G iPhone here at theiLife.com.
Comments :
1 Comment »
Categories :
Apple
,
iPhone
,
Rant