17
06
2008
There are few target audiences that Apple's products fail to appeal to these days, but one market they have yet to tap is the growing legion of digital gaming fans. Since Microsoft's buyout of Bungie Studios in 2000, there have been few games for Apple fans to look forward to, excluding the valiant efforts of dedicated Mac exclusive developer Pangaea and cross platform games from developer Blizzard Entertainment. Steve Jobs continues to remain seemingly uncooperative with the game industry, rejecting an offer from PC mega-developer Valve to port its Half-Life 2 series to OS X.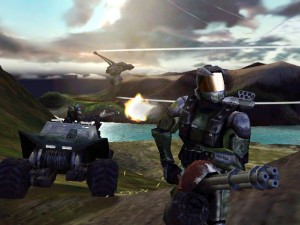 But when Apple announced its ambitious touch screen iPhone device in early 2007, many gamers hoped that Apple would break into the mobile gaming market. The device seemed to be ideal for game design, featuring a large bright screen, input in the form of a touch screen and accelerometer, a 3D acceleration chip and the ability to download games from anywhere with cellular reception. Also, by entering the market four years after the release of the Nintendo DS and the PSP, the iPhone will have a substantial technical advantage over its competition. The PSP uses a 333 MHz CPU, the DS uses two co-processers, clocked at 67 and 33 MHz, where the iPhone utilizes a 620 MHz ARM chip. The iPhone has similar advantages in terms of RAM, storage and wireless capabilites. In fact, the only thing holding the Apple device back is its less than ideal input capabilites.
After repeatedly denying that they would allow 3rd party software development for an entire year, Apple confirmed that they would open the device up to developers, subsequently causing a flood of speculation into the prospects for gaming on the device. The first demonstrations of the iPhone's gaming abilities were promising to say the very least. At Apple's iPhone SDK announcement in March, Apple engineers demonstrated the capabilities of the platform with their internally developed game titled Touch Fighter, a Rouge Squadron/StarFox like flight combat sim. The game utilized the touch screen for aiming/shooting, the accelerometer for direction, and was fully 3D, even utilizing the OpenAL API to perform a limited 3D sound function. Mega-publisher EA, who had previously committed to develop more games for the Mac platform, demonstrated a mobile version of the first stage of its upcoming Spore franchise. And Sega showed off a build of Super Monkey Ball, making good use of the accelerometer, a control scheme that had gained much acclaim on the Nintendo Wii system. Apple and the other developers that had time with the SDK claimed that some of these applications, such as SMB had been developed in a period as short as just two weeks. The demonstration was a success; anticipation for iPhone games became frenzied.
During the past week at WWDC, iPhone gaming came back into the spotlight. Apple demonstrated numerous games, including additions from Pangaea Software in the form of two ports: the puzzle game Enigmo, and a port of its cult classic title Cro-Mag Rally. Moo Cow Music presented a suite of instrument simulations in an application called Band, featuring a virtual drum set, guitar, bass, keyboard and multi-function blues simulator. Band also allows for a number of recording features and the ability to combine tracks from multiple recordings, putting it several steps ahead of more casual games like Guitar Hero and Rock Band.
But the real test will come once developers start to push the iPhone 2.0 platform into the same arena as the DS and PSP game systems. Vying for the hardcore gamer market is not something that any mobile phone system has been successful in doing as of yet, despite the efforts of Nokia's N-Gage platform. Enter Digital Legends Entertainment, formerly one of the few N-Gage exclusive developers. Their entry into the iPhone foray is the platform exclusive Kroll, a third person sidescroller title that bears some resemblance to God of War, to which the developer has compared Kroll to.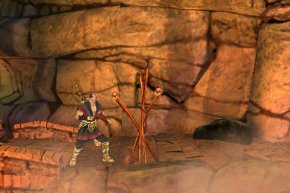 Resting the fate of the iPhone's hardcore gaming potential on an untried N-Gage developer isn't exactly fair however. To fill that niche steps in John Carmack of iD, who has promised that his studio will create an iPhone title. As of now, no commercial titles have been confirmed, but several videos have popped up of Doom 3/Doom Arena running on iPhone hardware. As if that wasn't enough, a multi-player, networked version has also been demonstrated. There's no question that the level of graphical prowess is rapidly approaching that of mainstream mobile game systems, but whether or not the iPhone can successfully emulate the gameplay of a dedicated gaming device remains to be seen.
Apple has a real chance to get gaming right this time around, let's only hope they have what it takes. If you liked this article and would like to read more about iPhone gaming, check out our guide of upcoming iPhone games.