10
04
2008
While the iPhone will probably be the center of attention at this years World Wide Developers Convention, at this point, it isn't unreasonable to assume that there is going to be something relating to the Mac. If you haven't already, check out Part I.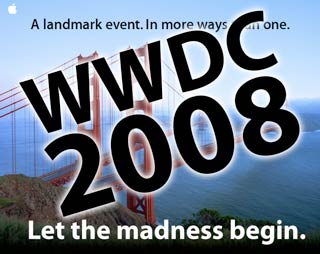 WWDC 2008 Invitation.
WWDC is often a very difficult keynote to accurately predict. While this can basically be said about any Steve Jobs keynote or Apple event, WWDC is often more unpredictable than the others and usually centered around one thing. For example, in 2005, after presenting some sales numbers, Steve Jobs spent the entire keynote discussing the transition to Intel processors. In 2006, Jobs introduced new Intel based replacements for the Power Mac G5 (now Mac Pro) and Xserves and demoed 10 new features planned for Mac OS X 10.5 Leopard.
This year it wouldn't be surprising to see both a software announcement accompanied by a hardware announcement. Like Macworld is primarily for the Mac, the developers would appreciate a keynote that includes something other than the iPhone. So at this point, the second generation iPhone will probably be released at a later date. However, we definitely should see information about the iPhone 2.0 software update, the App Store and, some examples of what developers have done over the months with the SDK.
As for the hardware, at this point, it looks like a laptop revision is in order for the MacBook and MacBook Pro. Coincidentally, both products are due for a redesign- both haven't seen any hardware changes since the introduction of Intel processors. AppleInsider ran a story recently about the MacBook line redesign, how both laptops will get a style change similar to the new iMacs or MacBook Air. Apple seems to be moving away from White products- first seen last fall with the 6th Generation iPods. WWDC would be a very appropriate place to reveal new MacBook Pros.
While it is really way to early to predict what might happen at WWDC, we can tickle our imaginations for now. As it becomes closer, things will become more certain and the predictions can become more accurate. But, lets let it sink in. What do you think?

Comments :
No Comments »
Categories :
Apple
,
Hardware
,
Keynote
,
Rumors
,
WWDC 2008