4
04
2008
Recently, it has been estimated that over 40 percent of all perspective students plan to buy a Mac as their next computer.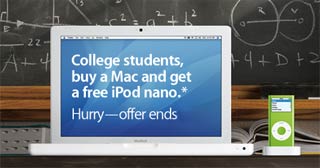 "Buy a Mac and get a free iPod Nano" campaign
Last Wednesday, a report from Morgan Stanley revealed that 40 percent of all college students plan to buy a Mac as there next computer. However currently, Apple holds a 15 percent stake in the higher education market share. This indicates that this back-to-school season will see very strong Mac sales to students and Universities which are the most valuable customers.
Often Apple adds more incentive to buy a Mac by offering Students a $200 dollar rebate for a new iPod, or free iPod nano. This allows college students to save money, get a new iPod and helps Apple clear out stock of an iPod line nearing replacement. For the past two years, Apple started this campaign, "Buy a Mac and get a free iPod Nano" on June 5th, which is just before the back-to-school shopping season starts.
As Apple's computer market share increases, we could attribute the gains to strong iPod and iPhone sales over the past few years, coupled with the Apple Retail experience and good brand affiliation. We could also look at the declining state of the Windows marketplace, mainly, Vista. Students, and the young crowd have always been a strong supporter of Apple. The 'iPod Halo Effect', may be coming true- the people who love their iPods or iPhones buy Macs and fall in love with OS X and iLife.
It is interesting, writing about the exact market which I fall in- I will be entering college as a freshman this fall. I can say, first hand, I have seen countless friends switch from a PC to a Mac for college throughout my years in high school, and I have yet to hear someone switch back. I know of many friends, some more tech-savvy than others; who plan to switch to the Mac for their next computer this summer. What appears to be a growing trend, these college students will not only help Apple now, but in the years ahead as well.
Noted in the same Morgan Stanley report, when the current college students matriculate into the workforce, Apple's market share will be accelerated, much like Linux adoption during 1998-2003. Linux saw a eightfold increase in adoption, with 16 percent of all servers shipping with a distribution of Linux by 2003, compared to 2 percent in 1998 as Linux users found there way into the workplace.
With aggressive pricing and technical configurations, superior software and support, Apple can continue to drive more and more people to the Mac platform, be it College Students, IT professionals or businessmen. While the PC wars ended years ago, the competition has not ended- Microsoft has let their guard down. If 40 percent of college students intend on buying a Mac this year, what will it be next year? Only time will tell, but I will certainly be revisiting this article again in September and revealing what happened.
Comments :
No Comments »
Categories :
Apple
,
Hardware
,
iPod
,
News
,
OS X