9
04
2008
With WWDC now only two months away, its is time to start thinking about what we might see in the Stevenote.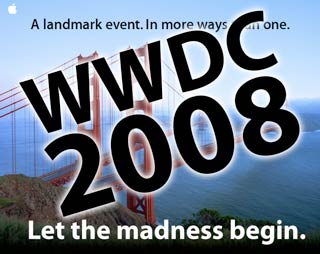 WWDC 2008 Invitation.
This years World Wide Developers Conference is shaping out to be one of the most anticipated in the past couple years. For those who are not familiar with WWDC, it is the yearly conference held by Apple for developing for the Mac OS, and now iPhone platforms. It is a showcase for new Apple software geared towards developers- WWDC also offers a number of hands-on labs and feedback seminars. Often Steve Jobs uses it to demonstrate the latest Mac Operating System in development, and usually updates Pro hardware such as the Mac Pro or Xserve.
Typically held in June, this year is no exception. This year, however, we saw the iPhone SDK announcement on March 6th which added an entirely new platform to the Apple Development scene and demonstrated the true power behind the iPhone and OS X technologies. This year we should see, among other things, more developers attending just because of the iPhone.
The iPhone, a key product in the lineup of the Cupertino company, probably will be the central focus of Steve's Keynote. In March, Steve Jobs announced that the iPhone 2.0 Software Update would released in June, which could mean WWDC. There has also been an enormous amount of speculation about the second generation iPhone, with 3G- which is another possibility for WWDC.
What complicates things about the second generation iPhone however, is the FCC. If Apple wants to begin to manufacture the second generation iPhone, it needs to pass through the FCC. However, the FCC would spoil a secret release, which is why Apple announced the iPhone at Macworld 2007 and waited until June to release the iPhone. Now with the phone released, it becomes more of an issue, as the transition time between the two different iPhones could mean wasted sales.
On the other hand, the introduction of the iPhone 2.0 software could be a time killer for a second generation iPhone release- along with a price cut, it could keep people buying the current iPhones, even with a new iPhone revealed. Yet another possibility to consider is the introduction of a release of a new iPhone that will remain on the same shelf as the current iPhone- to break into new price points with the iPhone, analogous to the iPod and the iPod mini in 2004.
Whatever will end up happening, these are all ideas to consider for now. Another critical focus of WWDC is the Mac, which may loose some spotlight to the iPhone, but will definitely be mentioned. More to come tomorrow. Meanwhile, what do you think?
Comments :
No Comments »
Categories :
Apple
,
Hardware
,
Rumors
,
WWDC 2008