30
01
2008
This is a continuation of Macworld Show Floor Part I, Macworld Keynote Part I, Part I and, Macworld Registration Part I and Part II.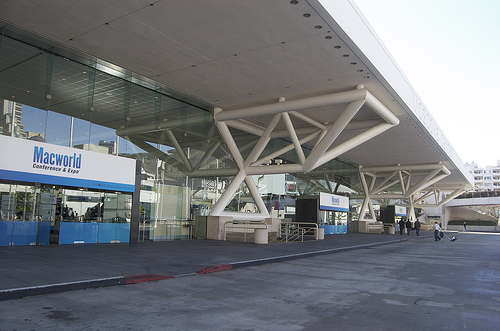 And then it was Thursday! Did I mention that the week really flew by? After exploring the entirety of Moscone West on Wednesday, we crossed the street and explored Moscone South on Thursday. Starting from the corner, with the mobile Best Buy store, we walked down every isle and visited every booth. Like I explained yesterday, Moscone South had bigger names and less iPod Accessory vendors- which was nice.
We walked around, again talking with exhibitors about their products- which ranged from obscure to some we use everyday. It is great to meet and interact with the people behind products you use every day- which is an experience technology can never replace. This is why conventions like Macworld and CES continue to thrive in this age of the internet.
Highlights from the South Hall were getting to use the new Apple products weeks before they became available to the general public- the MacBook Air is incredible; and the AppleTV upgrade seems promising. Belkins booth was a large house with interactive displays of their products, a band (pictured below) and a gaming room equipped with members from the PMS gamer clan. The Microsoft Blogger Lounge was popular and offered a nice resting point with free refreshments (pictured below). The Mobile Best Buy was pretty cool- they brought a 53 foot tractor trailer onto the floor and sold only Apple products with some accessories and a live DJ. We barely covered the floor in the one day, by the time we reached the other side, booths were already closing.
On Friday we split the day into two parts- finishing up coverage between both the West and South Halls. We did the West hall first, ate lunch and walked over to the South hall. We were trying to make the best of the remaining hours in Macworld, especially because the Expo closed at 4PM instead of 6PM to allow the exhibitors to pack up. We ended up talking with the engineer of VMWare until almost 6:20, so walking around amongst the Exhibitors packing up was interesting- everyone was scrambling to take things apart!
In conclusion, our trip to Macworld was incredible! We met new people, talked to developers, designers, journalists and more- you cannot replicate the experience from your computer. Going to Macworld has always been a dream of mine, and now it may become a tradition! Our first year, first in line- hopefully one of many more to come.
Pictures after the jump.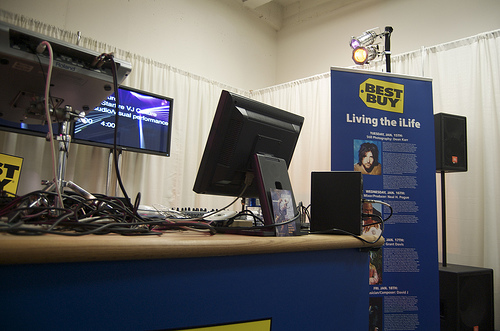 The Best Buy Mobile website.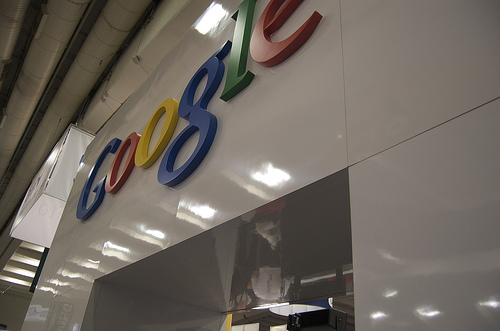 The Google Booth.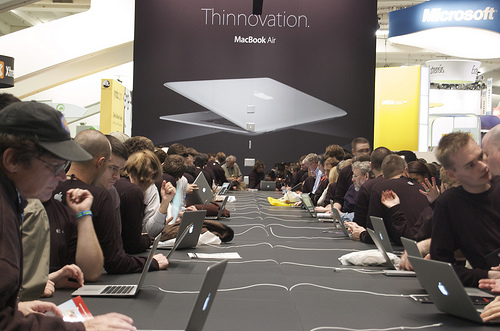 The Apple Booth and the table of MacBook Air's.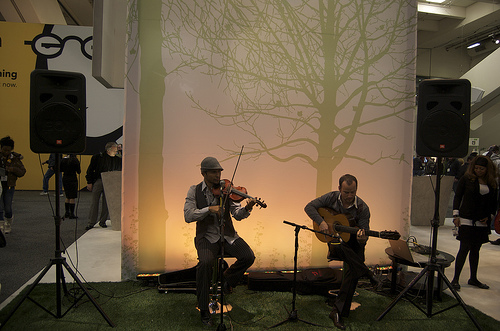 The Belkin Booth.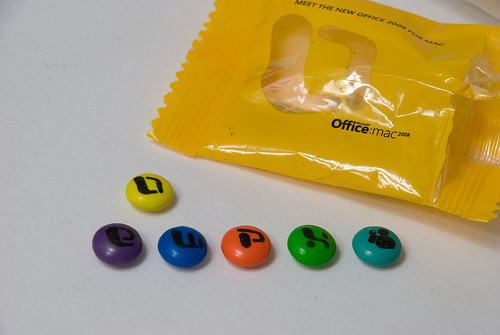 The Microsoft M&M's