13
12
2007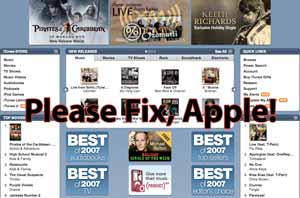 Since its induction on April 28th, 2003, the iTunes Store has been the internet's most popular digital content source (that is, legal source). Yearly selling over 3 billion songs, not to mention millions of television shows, music videos, and movies, the iTunes Store easily holds the lion's share of the market and has set the standard for digital media stores today.

Now, as the store is approaching its 5th birthday, it appears to be setting up for failure. Rivals are stepping up competition and, worse, NBC-Universal has pulled out of TV sales for the September, 2007 season. They provided 30% of all shows sold on the iTunes Store! While the store can probably sustain the loss, it can never help to lose content.
With any more major losses, the store could soon see a drop in market share if Apple doesn't change something soon. The problem is threefold — keeping content providers happy, maintaining consumer spending, and covering expenses. From the public standpoint, Apple's behavior hasn't changed, but this is a turning point and could become detrimental to the iTunes Store and eventually the iPod. If Apple can't keep its providers happy, the content will eventually disappear — and so will the consumers, who will look elsewhere for their legal content, including illegal sources. Apple must act now — before it becomes too late.
Competitors are arising, such as the newAmazons MP3 Music service (beta), which offers DRM-free MP3s at 256 kbps at variable pricing. Starting in September 2007, tracks on Amazon MP3 are priced at 89¢ and 99¢, tempting customers with a potential edge over Apple's 99¢-per-track standard. It also offers stiff competition in compatibility, as the iTunes Store exclusively uses the AAC format — which is anything but the universal standard MP3 has become.
The iTunes Store has an incredible market share — 70 percent! It also has a tremendous collection of content — over 6 million songs, 20,000 audiobooks, 10,000 music videos, 500 movies, and 350 TV shows. But if Apple continues to sell on principles from 2003, they probably will no longer remain the market leader. Consumers will seek more diverse content, open formats and lower pricing. Apple can only maintain its market share by making changes — now. With tweaks to the iTunes Store like innovative pricing schemes, open formats for media, and the option to rent movies and TV shows, Apple can only make everyone happier.