10
07
2008
Three members from theiLife.com crew have taken position at the 5th Avenue Apple Store in New York City. We are the third group in line for the iPhone 3G, which goes on sale tomorrow morning.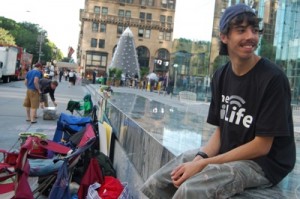 Other groups represented in the line as of now include a organic farming activist group, and another man holding a spot for a friend. The number of media outlets attending the event is more than a little disproportionate in comparison to the number of people on line. So far MacLife, NY 1, Reuters and a Japanese national station have covered the event, with varying levels in interest. The unknown Japanese seemed most interested in whether we had ever heard of the term "iPhoner", while Reuters wanted to know why we were waiting in line for an iPhone rather than a Blackberry.
Things here have been fairly calm so far, except for the random pedestrians who stop and ask questions. The first group has however been approached by what appeared to be a combination of Apple security and NYPD reps who asked them to take some of their signs down. Naturally, that request was denied pending a written order.
We will be doing a liveblog of events below from the line:
7:55AM EST: We have taken the third group position in line on 5th Avenue.
1:31PM EST: Still holding the last position in the line; we have seen more media interviews than people on this entire line. We are going out to eat lunch soon!
2:33PM EST: After leaving the bathroom of the Apple Store, we ran into a pallet jack carting in a shipment of boxes labeled 3G iPhone. See gallery after the jump for picture.
4:14PM EST: Apple has just given us all black umbrellas with a white Apple logo on them! They have been going around the line insuring that we are all iReady. Greg Packard, the guy who was first online last year stopped by to say hello, and we are currently uploading the interview with him. More coming soon!
4:34PM EST: Just posted the Greg Packard Interview below.
5:45PM EST: Matt Dodd just had an interview with Leo Laporte from TWiT and the servers are seeing heavy traffic. Foot traffic on the street is heavily increasing as the day is ending here in New York City. More media coming soon!!
8:05PM EST: The sun is setting on a beautiful day here in New York. We are working on finding a spot to eat dinner!
10:05PM EST: Scaffolding is going up by the cube, it looks like it is getting a bath!
10:35PM EST: Workers are downstairs (in the Apple Store) grouting the cracks between the tiles.
Photo gallery and videos after the jump!

Greg Packard Interview