10
06
2008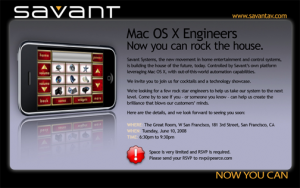 Tonight, Savant Systems is throwing a party for WWDC developers. The iLife is glad to be in attendance and will be bringing you text updates and photos from the party. A more complete account of the event and the company will follow after WWDC. For those of you who not familiar with Savant Systems:
"Savant Systems is an exciting, new home automation platform, leveraging Mac OS X technologies throughout the house. Savant is throwing a party to introduce themselves to the Mac developer community and to demonstrate the Savant platform."
WHERE: The Great Room, W San Francisco
181 3rd Street, San Francisco, CA
WHEN: Tuesday, June 10, 2008
TIME: 6:30pm to 9:30pm
4:55 PM (PST) Still at Moscone West — leaving soon.
6:39 PM (PST) I've entered the event. Maybe 40-50 people here. There are music, drinks, and projectors showing digital art along with demo computers and equipment and a couple of touchscreen coffee tables.
7:21 PM (PST) Listened to the CEO present how he started the company: when he retired from the telecom industry, he wanted to install a few large TVs and automation, but found that a software engineer, after two years of custom work, hadn't gotten beyond a primitive system. He started a new company which used Macs and code-free automation to, perhaps, solve the home automation "problem" once and for all. Savant is currently looking for developers to add modules to their system. For example, an application that set up the house for evening when the user arrived home. In other news, at least half the attendees appear to be Apple employees!
7:45 PM (PST) Heading out to check out other after parties. Pictures will be uploaded when I get back to the hotel.
Pictures after the jump!