4
06
2008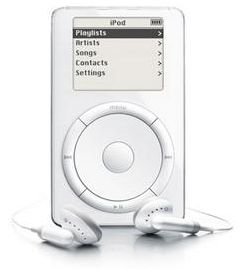 Since its founding, Apple has designed products aimed at changing the way we use technology. From early computer offerings like the Apple ][ to today's iPhone, Apple has always changed the way we interact with technology. And Apple, since the introduction of the first AirPort base station in 1999, has continually pushed for a world with fewer wires and more elegant connectivity.
It started with the the Macintosh Portable in 1989. While the Macintosh Portable was a small step towards a portable, wireless device we have become accustomed with these days, it suffered from several fatal flaws- it was large, slow, awkwardly shaped and expensive. As a result, the Macintosh Portable didn't sell as well as Apple would have liked. But Apple didn't stop there. They followed the Macintosh Portable with the PowerBook, and it stuck. The PowerBook lived on Apple's product line from October 1991 all the way to January 2006 when it was replaced by the MacBook Pro. Since then, Apple added the iBook and, recently, the MacBook Air.
Let's step back a few years. On October 23, 2001, Apple Computer, Inc. released what some consider to be the most revolutionary product of the past decade: the iPod. The iPod took digital music and put it on the go. Suddenly, you could have thousands of songs at your fingertips without changing a single CD. Over the course of 5 years, Apple's iPod reached the pockets of more than 30 million. To date, Apple has sold 150 million iPods.
Flash forward to January 2007, when Steve Jobs announces the iPhone. Apple redefines another mobile device. The iPhone went past cell phones' old limits in a manner only Apple is capable of. The iPhone is reinventing the cell phone market like the iPod did for portable music.
With the imminent release of a new iPhone and iPhone firmware 2.0, Apple is moving us in a direction that will change the way we interact with technology once again. With the help of our favorite Cupertino company, we are being set free, and moving to a world without wires.