14
05
2008
For those living in or near Boston, Apple has finally brought you good news- tomorrow, Thursday May 15th, you will be getting your first Boston Apple Store!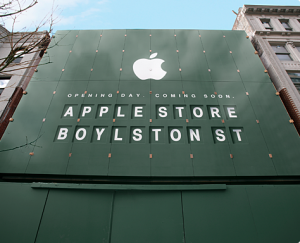 The Apple Store Boylston Street "Green Monster" (Image courtesy of Apple)
On April 28th, the facade of the upcoming Boylston Street Apple Store appeared, modeled after the Green Monster and reading "Opening Day. Coming Soon. Apple Store Boylston St." Last week, ifoAppleStore speculated that the store was set to open next Friday, May 16th. Earlier this week, Apple officially announced the grand opening to take place on Thursday May 15th.
This is the first flagship store launch since then opening of the West 14th Street Apple Store in New York City, back in December of 2007 (which you can read our coverage of here). The new store is said to have 3 floors (like the West 14th Street Store) and over 20,000 square feet of retail space and even a vegetation garden on the rooftop. The Bolyston Street store is confirmed to be Apple's largest retail store in the United States. At the grand opening, which takes place at 6:00PM tomorrow, Apple will be giving away limited edition T-shirts and "other surprises". The store will operate under extended hours (8AM-11PM Monday-Saturday; 9AM-7PM Sunday) but will not be open 24/7, like the 5th Avenue Apple Store in New York City. You can find directions and a calendar of events on Apple's website, or read more about the store on ifoAppleStore.
The store is located is located at 815 Boylston Street between Gloucester and Fairfield; Boston, MA 02116.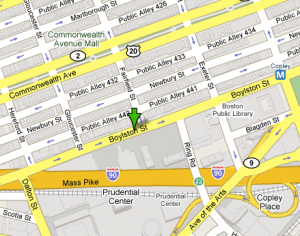 A map of the surrounding area.
If you are planning on attending or would like to attend, theiLife is still in search of any one willing to report for our us. There are absolutely no requirements and any pictures, videos or text updates are highly appreciated! If you are interested, you will be given access to our FTP servers and a WordPress account to post updates, pictures or videos. Please contact us via AIM, email or by post a comment below.