14
05
2008
Geoffrey is a new writer to theiLife.com and will be occasionally posting about various Apple related news. Today he is writing about the recent iMac Speed Bump.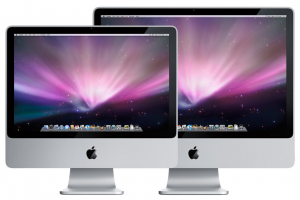 The iMac has been herald the most innovative computer of its time. It was the first truly successful computer to integrate both the monitor and the actual CPU in one unit. While the original iMac was big, bulky, and came in a wide variety of translucent colors, it has been refined over the years. The iMac is by no means an antiquated computer. Over the years, it has grown to become stronger, thinner, faster and sexier. Last month, Apple has continued this trend with the latest refinement.
While some might call the recent iMac upgrade just a speed bump, its really perfection to the already perfect desktop. The new iMac comes with either a 20" screen or a 24" screen, the standard two options since 2007. The 20" model comes with a 250 GB Serial ATA 7200-rpm hard drive that is upgradeable to either a 500 GB hard drive or a 750 GB hard drive. This model also comes with a 2.4 GHz Intel Core 2 Duo processor that can be upgraded to a 2.66 GHz.
The 24" model is all the new rave in Apples line of computers. The 24" model comes standard with a 2.8 GHz processor and a 320 GB hard drive. But the new 24" iMac can be upgraded to have a 500 GB hard drive, 750 GB hard drive, or even a 1 TB hard drive! It can even have its processor upgraded to 3.06 GHz!
So what does all this mean? This means Apple has once again upgraded the computer of our generation, the computer that set the standards for other manufactures, the computer that more people associate with Apple then any other computer in Apple's line. Once again Apple has stepped up the standard for all computers to come and the reviews (Macworld/PCMag) agree.