29
05
2008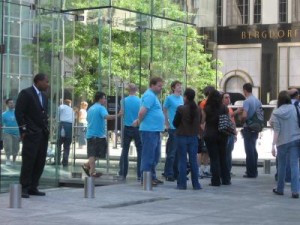 Reports are coming in the 5th Avenue Apple Store, located in New York City is being shut down. Rumor has it that Apple is filming a commercial for the new, unreleased iPhone inside the store. On the 5th Ave Retail Website, a message reads:
"Please note we will be temporarily closed Thursday, May 29 at 3:00 p.m. and will reopen Friday, May 30 at 9:00 a.m. During this time, please visit one of our other two Manhattan locations."
The store is normally open 24 hours a day, 365 days a year, and has only closed on two occasions, for about three hours- the release of Mac OS X Leopard and the iPhone last June. TheiLife regular, Sidney San Martin is en-route to check out the scene, and should be reporting live within the hour- pictures, live blogging and a little investigative reporting to come. If you live in or near New York City, and would like to help contribute to the coverage, please feel free to contact us!
---
6:31 PM Sidney is off from work and en-route (via Subway) to the 5th Ave store.
7:30 PM Sidney is on the scene confirming that it is indeed commercial- there are booms and a Genie outside the store. He says that lighting is being setup to highlight the Cube and elevator.
7:37 PM Sidney has confirmed that there is filming going on in the store. Director chairs and people mingling around the tables. All computers have the Leopard aurora desktop background showing with no menubar or icons.
7:39 PM He can see into the Apple Store, and there are iPhone tables with cardboard around them. Most of the people are congregating around the iPhone tables. The cardboard is very eerie, very Apple, he notes.
7:52 PM The crew outside is discussing ways to get into the store, appears to be looking at a floorplan.
7:56 PM "I recognize the 5th Ave HR Manager standing outside the store. She is dressed well and clearly happy about this event."
7:58 PM More lights are being setup around the outside of the Cube.
8:08 PM "Crews are all talking through radios. I wish I had a frequency scanner right now!"
8:11 PM The crews are hooking into the Fire Hydrant now. What the heck!?
8:33 PM BLACK CASES MARKED "Anonymous 5+4" entering store.
8:33 PM More black cases marked "Anonymous 4+3" entering store.
9:33 PM Sidney has to leave as his iPhone has died; the liveblog is over. The servers are being pounded from traffic from all over; including AppleInsider and MacRumors. Thanks to all who have visited!!
9:47 PM Almost the entire sidewalk is blocked off on 5th Ave, with the Apple employees pushing the line back as much as possible. Sidney has left for home.
---
Pictures after the jump!