8
01
2008
For the coming days leading up to Macworld, I will be releasing a series of articles focused on specific rumors slated for Macworld 2008.
Todays article is about the rumored iPhone updates and enhancements.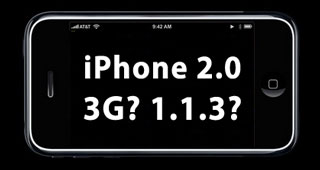 On January 9th, 2007, Steve Jobs finally broke the rumors and announced the iPhone. Today, one day short of it's first birthday, the world is wondering what the next iPhone has in store for us. There are many rumors regarding the iPhone at Macworld 2008- some predicting just a firmware update while others believe the introduction of the iPhone 2 is eminent. Somewhere in between the broad line of speculation lies the truth- we are definitely going to hear something about the iPhone next week.
The cell phone industry is extremely hard to keep on top of. From the four major carriers in the US all releasing products through a myriad of hardware companies, all running different firmware- some even Operating Systems. The iPhone has broken many of the molds of the cell phone industry but the competitors aren't sleeping on it (like with the iPod). LG is offering arguably the closest competition to the iPhone, the LG Voyager, which is offered by Verizon Wireless.
All of this keeps extra pressure on Apple, who is already busy leading the market with the iPod and keeping the Macintosh (and it's OS) shiny for those three percent of the world. The iPhone, while revolutionary- is now a year old, which is about mid-aged for a cellphone, and basically outdated for an iPod. While they can't re-re invent the wheel, Apple can keep it's consumers (and critics) happy by adding small refinements and refreshes. This can come in the form of firmware updates or hardware refreshes.
The upcoming February iPhone SDK will certainly please all, and we can begin to see the true power of the iPhone unfold as they progress. The upcoming 1.1.3 update looks promising (if the pictures are actually real). However, hardware wise- the iPhone could use 3G and a storage bump- to name a few. We should definitely see something pertaining to the iPhone at Macworld.

The Verdict: Macworld last year was mostly occupied by the iPhone announcement- however I think that this year, an emphasis will be placed on the Mac. We should look forward to seeing an announcement or two pertaining to the iPhone, from the sales to a firmware update. We probably will not hear anything about 3G (or the iPhone 2) this early in the year.
---
What to expect:

•Sales Figures- How the iPhone Preformed throughout the Holiday season, maybe the 5 million, but probably not that high. (100% chance)
•Firmware 1.1.3- We should expect a firmware update, possibly coinciding with other (iTunes) annoucements. (90% chance)
What is possible:

•iPhone storage bump- Add an 16GB model or replace the 8GB. (50% chance)
•iPhone 2- With 3G and higher storage capacity. (30% chance)
•iPhone Nano- Rumored for a September release, with a smaller price point and less features. (10% chance)