1
04
2009
99 Games was nice enough to give us a review copy of their popular game, WordsWorth. Let's take a look.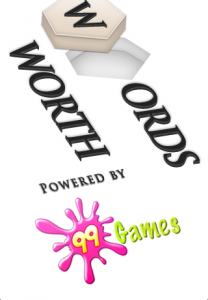 WordsWorth is a fun unique game for the iPhone and iPod Touch. Basically, its a combination of a solo player game of Boggle, and a ever changing word search.  Hexagonal tiles are spaced out along the board, and its your job to earn enough points to advance to the next level. It keeps getting harder, level after level, up to level 30. The game as two modes, Timed and Classic. I really preferred the classic mode, as a way to just relax and keep me busy when I had nothing else to do, since I always have my iPod Touch on me.
See more about WordsWorth, after the jump.
Overall, I really enjoyed playing WordsWorth, which was surprising because I usually dislike word games because I can never find anything. Luckily, WordsWorth has a handy scramble feature which will shuffle all of the tiles on the board. I really liked how you activated it, by shaking your iPhone, kind of like boggle. Even if you do play in a more relaxed classic mode, there are still some challenges. For example, there are timed tiles which appear every time you scrabble the board as a penalty, and also pop up as you progress through out the levels of the game. You have to be fast, and use these red tiles, because otherwise it's game over.
One of WordsWorth's Red Timed Tiles.
The game also has other features which help keep the game interesting, like wildcards, and "buzzwords" where a random word is chosen and if you make it, you get extra points. Most of the time, the correct letter combination is not on the board, so you have to stay on the look out and selectively get rid of tiles so you can make them line up correctly, if you chose to go for it. there is no time limit or penalty for not completing buzzwords.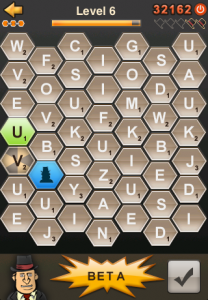 One thing that really annoyed me was the background music, which was pretty short (about a minute) and didn't loop very well. So, every time the music restarted, you hear a "jump". Luckily, you can either turn the music off in the settings, or play your own music and automatically override the background music.
I have to say, it's great to have a game that you can always turn to, that you can always play more, and it keeps your mind active! And, even if you manage to make it to level 30, the game is completely different every time, but restarting might be a bit easy at first. It's definitely worth the $1.99, and it's available in the App Store (Need iTunes to view). You can also try out the "Light" version for free. The lite version only has 3 levels, and is clasic mode only, among a few other things. You can also get it in the app store.
Pros:
Ever Changing Game Play
Flex your brain
Two Game Modes
Cons:
Annoying Background music
P.S:  This game and review is real, and not an April Fools joke. Have Fun!