13
04
2009
I know this is a bit late for a review but better late then never!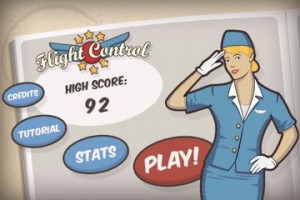 Flight Control, created by Firemint, is an addictive little game where you draw the flight paths of different aircraft to their landing strips, basically you are an air traffic controller. There are 4 different types of aircraft, a blue helicopter, a yellow Cessna type plane, and two different kinds of red jets, one being faster than the other.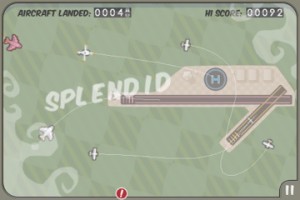 The graphics are simple but clean. There isn't any in-game music while you are directing things, and you can't listen to music and the game sounds at the same time. The game sounds are helpful, they warn you when aircraft get close to each other, and ding whenever you land one, but if you are playing a long time it is better to listen to music. Otherwise, the game keeps track of your statistics (most likely aircraft to crash, most planes landed, last game's planes landed) so you can see how you've improved.
This game could use some improvements, like a fast-forward, especially at the beginning. Every time you restart, you have to wait a long time for airplanes to show up, which makes the start of each run very slow. Otherwise, the graphics are a bit simple, a plane or helicopter landing just shows them fade away as opposed to actually landing. When there is a mid-air collision, they just blink to show they have hit each other. It would be more interesting (and a better finale to each game) if they exploded. Lastly, a few more gameplay elements would be good, like if they had clouds float over the airport to make it harder to see what is going on. However, all of these minor faults don't hurt the game enough to avoid buying it.
Flight Control is addictive and entertaining, and it only costs $0.99, which is a great price for this game! You can pick it up from the App Store here.