25
03
2009
With the end of March rapidly approaching, speculation is beginning to build up for WWDC 2009. Mark your calendars- June 6th to 12th Apple will be occupying Moscone West.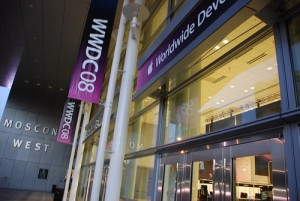 The front of Moscone West, WWDC 2008
Apple Worldwide Developer Conference, often abbreviated as WWDC, is an annual conference held in San Francisco for Apple Developers. In recent years, thousands of developers have gathered at the Moscone Center and notably in 2008, Apple sold out of tickets- which can be attributed to the success of the iPhone SDK. This year shouldn't be very different, as the recent iPhone OS 3.0 preview and SDK update will keep new developers attracted to the already huge platform. Along with the iPhone OS 3.0, Mac OS X Snow Leopard which was announced at WWDC 2008, is expected to be near or ready release.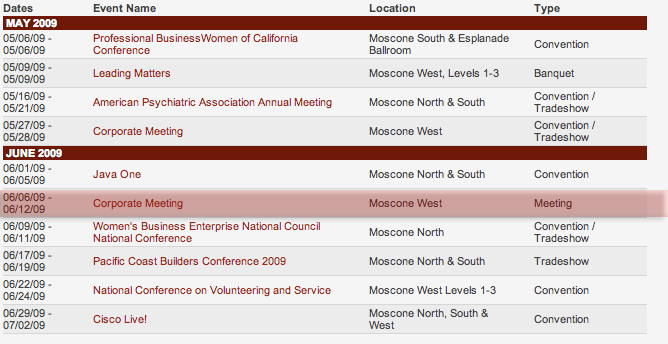 WWDC typically kicks off with a Keynote from CEO Steve Jobs, who is currently on a medical leave until June. It is still unclear whether Steve Jobs will present at this years keynote, which usually kicks off the conference. Usually WWDC is held in the second week of May or June, but was rescheduled to August in 2006. Curiously the Moscone Center schedule shows only one week long date reserved with the title of "Corporate Meeting" in between events such as Sun's Java One, Cisco Live!, Linux World, Oracle OpenWorld- June 6-12. In past years, Apple has used the "Corporate Meeting" as a mask for their own events, keeping the dates secret until an official announcement is made. Interestingly however, there is another event from May 27th to 28th with the same "Corporate Meeting" title.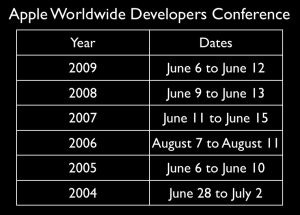 The June 6th to 12th dates fall on the same week as WWDC 2008. Above, a chart of WWDC dates going back until 2004.
Aside from the Snow Leopard and iPhone OS 3.0 releases, Apple is also expected to release the iPhone 2,1 that has been spotted in sever logs. If Apple intends on holding the conference in early June this year, we should hear of an announcement sometime very soon. Stay tuned to The iLife for the latest news!