29
07
2008
Since it's July 11th premier, the iPhone 3G has become a difficult phone to get a hold of. Here are a few tips on tracking down your new iPhone.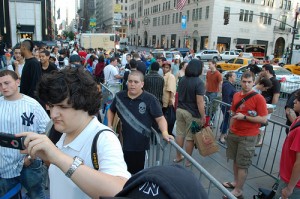 The 3G iPhone is in high demand this summer. Lines outside Apple Stores of seven or more hours have become commonplace. Seeing entire states selling out of iPhones for days at a time isn't uncommon. AT&T stores seem to get shipments least often, and generally flagship stores will have some models in stock, but accompanied with a long line outside. Even Apple is having trouble keeping phones on their shelves. Last week, Apple announced all stores were going to open at 8AM and have more employees helping in anticipation of iPhone 3G sales.
On apple.com/retail:
"Your favorite Apple Retail Store is making it easier and more convenient to purchase an iPhone 3G. All stores will now open at 8:00 a.m. every day but Sunday and, to accommodate demand, we're adding staff to help you get up and running as quickly as possible."
Like last year and with the MacBook Air, Apple has added a Store Availability Checker to their retail website which is updated at 9PM. Many sites have attempted to tap into this service, which isn't available during the day, to provide updated iPhone availability. Apple has since changed the backend so these sites can no longer use the checker during the day. You can view the official one here (after 9PM).
Among the most effective ways to find stock at any given time is to call. Visit Apple.com/retail to find a few Apple Store phone numbers near you and start calling. This process might require some time, and you might have to call several over the course of one day and week.
Recently, Apple has also setup a "raincheck" program, where if you lineup for an iPhone, you can set aside a 3G iPhone and return later in the day to finish the activation process when convenient. Generally you have until 6PM to pickup your new device.
Finally, among the most important things to do before you go out to purchase your new iPhone is to become iReady (PDF).
To purchase and activate iPhone 3G, you need the following:
Credit card (In Your Name)
Social security number (In Your Name)
Valid, government-issued photo ID (In Your Name) [Must be 18 and older]
Your current wireless account number and password or PIN (if you're new to AT&T)
And if these steps are too much for you, the simple answer is to wait. As the holiday season draws closer, and the device is on the market longer, production will ramp up and Apple may be able to handle the heavy demand better. If you have any additional tips or suggestions, feel free to drop us a comment below or contact us.