8
07
2008

Late this evening, visitors to the Apple Online Store were met with the typical "We'll Be Back Soon" message.
Additionally this evening, Apple has posted a message on the dotMac service section for current dotMac subscribers reading: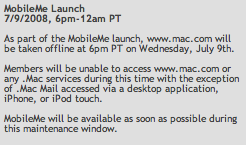 "MobileMe Launch
7/9/2008, 6pm-12am PT
As part of the MobileMe launch, www.mac.com will be taken offline at 6pm PT on Wednesday, July 9th.
Members will be unable to access www.mac.com or any .Mac services during this time with the exception of .Mac Mail accessed via a desktop application, iPhone, or iPod touch.
MobileMe will be available as soon as possible during this maintenance window."
It is unknown if these two events have anything in common, as the online Apple Store always goes down prior to new product announcements but does periodically go down for maintenance. Finally, Apple today has confirmed an 8AM launch time for the iPhone 3G in its own retail stores. On the apple.com/retail page, "iPhone 3G July 11th" graphics have been updated to "iPhone 3G July 11 at 8AM". The 8AM launch time reflects the AT&T store official launch time which was revealed earlier last week. Stay tuned to theiLife for continuing coverage of MobileMe and the iPhone 3G launch later this week.