17
07
2008
With last weeks release of the iPhone 2.0 OS for iPhone and iPod Touches, Apple has added a host of new features. Among the most prominently covered is the App Store, however there are many other refinements under the hood- take a look.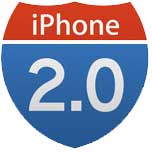 The 2.0 firmware adds a large number of fixes, refinements and additions to the iPhone platform. Free for existing iPhone owners and a $9.95 upgrade for iPod Touch owners, 2.0 adds the App Store as well as Microsoft Exchange support and many other enterprise level features. Below are some lesser known additions to the iPhone OS 2.0 firmware: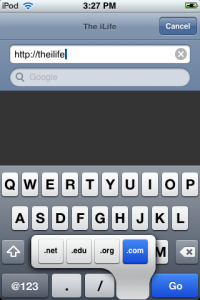 If you are entering a URL in Safari, for example, you're probably aware of the .com button. In the new 2.0 firmware, if you would like to type in .edu, .net or .org, if you hold down the .com button and you are presented with ".net, .edu, .org and .com" as an option.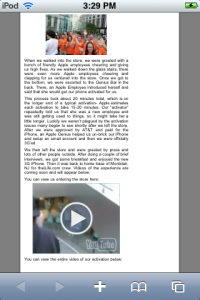 Like QuickTime movies, the new Safari version found on iPhone OS 2.0 allows you to see embedded YouTube videos. If you click on an embedded YouTube video, the video launches in the YouTube application.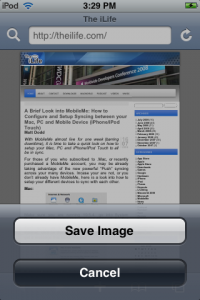 If you see an image you would like to save while in Safari or Mail, if you tap and hold down the image, a prompt will ask if you would like to save the photo. Your saved photos can be found the Camera Roll as well.
If you want to take a screenshot from your iPhone or iPod Touch, hold down the home button and click the Sleep/Wake button at the top and the screen will flash. Whatever was displayed on your screen will be added to your Camera Roll.
If you want to jump to the top of a page in Safari, or your Inbox in Mail, simply tap the Menu bar (where the time and battery information is displayed) and it will jump to the top.
Continue reading after the jump for more new features!
Scientific Calculator: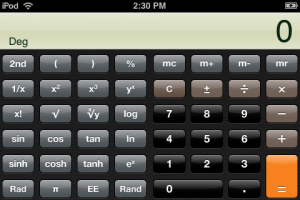 If you launch the Calculator application in the iPhone 2.0 firmware and turn the iPhone horizontally, it will switch into a Scientific calculator!
Email Attachment Support:
PDF, Word and Excel documents were viewable as attachments prior to iPhone 2.0. Now Apple has added support for PowerPoint, Pages, Keynote and Numbers documents in the 2.0 Operating System.
Bulk Move and Delete: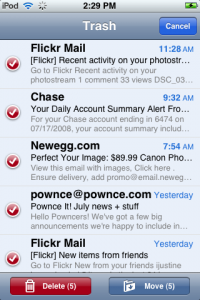 Bulk Delete and Move have been added to the Mail application. This makes moving mails to a folder or deleting multiple emails at once simple.
Contact Searching: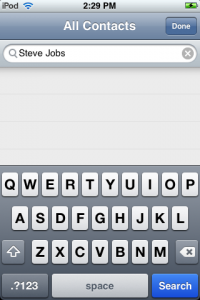 If you've got lots of contacts, iPhone OS 2.0 finally adds a search functionality.
These are just a few tips for those running iPhone OS 2.0. If you know of any other, please feel free to contact us or leave it in the comments below!