13
03
2008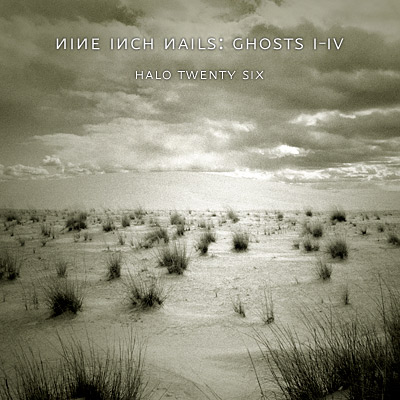 Last week Trent Reznor released a collection of instrumental tracks independently, in a surprise move even his fans couldn't anticipate. The collection, called Ghosts I-IV, was done in a ten week period last fall, produced mostly by himself and a few of his friends. The album's first 9 tracks can be downloaded on Bittorrent officially for free, while users can also choose to download just the music and a 40 page PDF for $5. If listeners really want a physical product, they can pay $10 for two CDs, $75 for a deluxe edition, or $300 for a limited edition with vinyl, CDs, and even a data DVD of all the multitracks.
Astoundingly, the download site was hit with so many requests that it had to be shutdown for several hours so it could handle all the traffic. Thankfully for some, the album was still available on Amazon, where this author was happily able to download 36 high quality tracks for the very low price of $5. Most people would see this as just an attempt to copy Radiohead and gain free publicity; however, by looking deeper into the way the idea was executed, it is clear that Trent Reznor takes it one step, if not three steps, into the future of the music industry.
Trent had tried doing it the Radiohead way, and learned the flaws of it. He had already released an album independently with Saul Williams online, where users could download the album for free, or choose to pay $5 to support the artist. Now we all know Radiohead pioneered this idea of giving potential buyers a choice in whether the music actually is worth paying for, except they were a little crazy. They had the money to give away all of their songs if they needed to, and so could let people name their own price, unless of course they wanted to pay over $100 for it on vinyl. In addition, they came out with the record in the traditional way January 1st, through a record label. In an interview with Triple J radio in Australia, Trent describes why Radiohead did not necessarily dive head-first into the independent digital music realm:
"What they did right? They surprised the world with a new record and it was available digitally first. What they did wrong? By making it such a low quality thing, not even including artwork and including things they've even said themselves say the proper way to get this record is on a CD and that's coming out in a few months, and to me that feels insincere. It relies upon the fact it was, you know, quote en quote "first" and it takes the headlines with it."
Nine Inch Nails has created a model that can actually work for mid-range level bands, which can affect the music industry much more than a stunt like Radiohead's. Here are what I think are the key details of this release:
1. Releasing free tracks officially on Bittorrent – One of the most revolutionary moves, especially because the site they are posted on, thepiratebay.org, is right now under fire from the Swedish government who, among others like the RIAA, want it shut down. This move was bold, and really accepts that Bittorrent is an incredible tool to distribute massive files to millions of users, yet also is a place to discover new things. We all know that Bittorrent is a haven for illegal music, movies, and software, but so far the RIAA's tactics don't seem to be working. By offering some tracks for free, Trent Reznor uses the service as a sort of preview so that if people like the sampling, they can buy the whole album.
2. All-encompassing price points – By offering his music in a full range of formats, it gives the buyers so much more choice, which is all they really want in this age of customization. For me, it was so easy to just download the album and 40-page PDF for $5. Being a college student, price is important to me, but I still want good quality. I like the high bit-rate, and I know that I'm not missing something because I'm so cheap. On the other hand, it's great that people have the choice to buy the high-end vinyl, which comes with a whole book of art and an entire DVD of the multi-track files. That alone makes the high end version for anyone who has the money and records music on their own. Being a musician myself, I would love to have the multi-tracks so I could really give the tracks a good remix, especially in this case, where the tracks are instrumental and some are just begging for vocals.
3. Putting it out under a Creative Commons Attribution Non-Commercial Share Alike license – Most people probably don't even understand what this means, but it's one of the most surprising things about this whole release. This license not only lets users remix the album, it allows them to "copy, distribute, display, and perform" it, as long as you don't make money off it, and Nine Inch Nails is credited. This lets me download the album legally, then give it to all my friends for free, without breaking the law. I'd say that's pretty cool, yet I'm sure people realize that this means Nine Inch Nails really risked having pretty much all the music itself pirated. Nine Inch Nails is prominent enough of a band to pull something like this off, however small bands probably should think twice about applying the same sort of license to their own work.
All in all, Trent Reznor is certainly making a working example of himself with this release.  Even though the idea of limited run CDs and vinyl while leaving the distribution to pirating is not that new(bands like jesu and boris have been very successful at just that), giving the buyer better choices is. It changes the game from "pay this price or steal" to "assess your finances and pay accordingly," which is good news for everyone. And from the looks of it, people like the idea.
Finally, the RIAA is proposing an ISP tax, ironically almost the same as the one that Trent Reznor talked about two months ago. Does this mean we may be just paying subscription for music from now on? Probably not, because the last thing ISPs probably want to do is restrict their users. So where could the music industry be going in the Digital Age? At least for now, independent distribution is the way to go, and Trent Reznor is the first to usher in this new, innovative business model.