19
03
2008
Starting a series of reviews, we will be looking at valuable pieces of software. Today's review is about WhatSize.
I am often asked by people looking to clear out space on their Mac for the best strategies and techniques to free up those precious bytes. The answer I always give is to download WhatSize. WhatSize is a great utility for mapping out the depths of your hard drive and quickly finding large files. Often when tight on space, you want to files that are taking up the most room and decide what to do with them- in a timely manner. Without WhatSize, it can be a taunting task of cleaning up a cluttered harddrive through just the Finder and the Get Info pane. This is why WhatSize can prove valuable to make it easy to find these large files.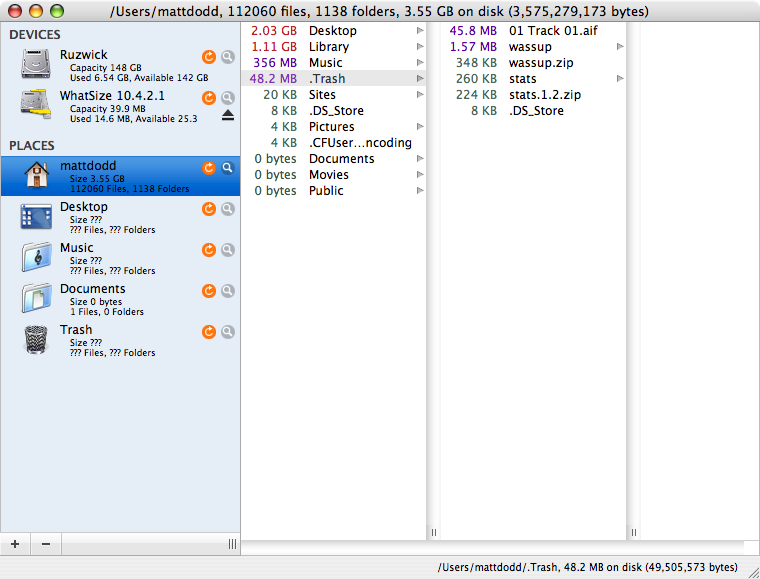 The main UI for WhatSize
When you run WhatSize, you see a tree of drives and folders in your home folder. Simply select one of these drives or folders, and it will start mapping out the selected destination. Once WhatSize is done, you can explore the contents of the selected destination. WhatSize will color code the files by size- those that are over one gigabyte, red, greater than one megabyte, blue and files that are greater than one byte green. You can then easily send items to the trash or open them in a Finder window all within the WhatSize browser. Earning 4/5 i's for our first Application review, you can download a copy and try it out on your own. More about the developer, id-design inc here.

Sorting files by size, color coated.
i i i i (4/5)
WhatSize offers a nice user interface for finding large files, and at $12.99 is worth your money.
Comments :
No Comments »
Categories :
OS X
,
Review