14
01
2009
I have recently acquired a review unit of the HTC FUZE for a two week demo. After much playing around and living with the unit, here are my thoughts.
Take a look, after the jump:
The HTC FUZE is one of HTC's (also maker of the G1) new smart phones. It's pretty much a AT&T version of the Touch Pro which is available on both Sprint and Verizon. The smartphone features a  528 MHz Processor, 2.8 " touch screen, touch sensitive controls, and slide out 5 row keyboard. Overall, the HTC FUZE's hardware is great. I especially liked the keyboard, it was really easy to type on, especially on webpages and text messages. and although the smartphone does have word mobile, I still don't think I could write anything of great length with it. The touch screen was clear and bright, and although it is a still a bit small at 2.8″ with VGA resolution,  I was still able to easily watch a video on it with out too much strain on my eyes.
The TouchFLO 3D interface was a nice touch on HTC's part to make Windows Mobile more aesthetically pleasing, but every time you use an application you go back to the plain old boring Windows Mobile interface. There is one interesting exception to this. HTC included Opera Mobile and made it the default instead of IE Mobile. The Opera interface is very unobtrusive, and is also makes use of the FUZE's "G-Sensor" (Accelerometer) to rotate the page as you rotate the phone (which is one of two apps that use the "G-Sensor" the other is a maze game (tilt the phone, move the ball, avoid the holes)), as well as a zooming gesture around the touch sensitive center button. As for music and multimedia capabilities, the FUZE does have a built in music player and can also play videos, but in order to use headphones (or even a wired headset) , you needed to use the included USB audio adapter. This is similar to the G1, which HTC also manufacturers.
I also thought the 3.2 megapixel camera preformed well, see bellow for some samples I took: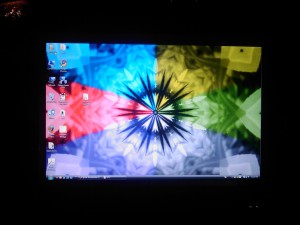 NOTE: All photos and videos have been resized
I really was not thrilled with Windows Mobile overall, i was glad for the TouchFLO interface, but it would be nice if there was a way to have add on, so not everything had to be run directly in windows mobile. Also, it would be really interesting to have a different OS, say Android (which is on HTC's G1), to show off the phones capability's. This would also be great for Android and the Open Handset Alliance, because it would bring a android phone to the other 3 networks (even if Verizon and AT&T are not members of the alliance).
Overall, I loved HTC's hardware, and not so much love for Microsoft's OS. It really ruined my FUZE experience, and I really, really, really would like to see the FUZE running Android.
The HTC FUZE Costs $349.99 after a new, 2 year agreement with AT&T
The Extremely Similar (Almost Identical) HTC Touch Pro costs $399.99 on Sprint, and $419.99 on Verizon; Both with a new, 2 year agreement
Special Thanks to Ricky Bird for letting us borrow the HTC FUZE to review.
See all of my unboxing photos below: