27
12
2008
Looking to explore some new ways of sharing your location? BrightKite offers the best tools for sharing your location.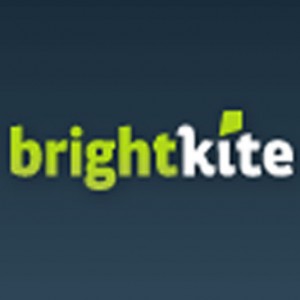 Looking to sign up for yet another social network?!? In a crowed field of social networks, a Denver startup BrightKite aims to bring social networking down to the real world. While social networking has gone undeniably mainstream, with over 120 million active Facebook users and 3.2 million Twitter accounts, BrightKite's network differs in an interesting way- bridging the real world to the internet. For those familiar with the iPhone application Twinkle, BrightKite borrows a few location concepts from Twinkle and builds a social network around them.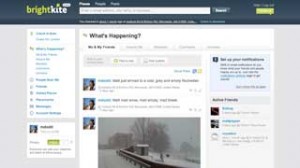 On BrightKite, users may post about what is going on at a given location via a Photo or Note. Users can also "Check In" and show other users their current location. On your computer or iPhone, BrightKite can utilize location based services such as Skyhook (a Wi-Fi location service) or GPS to automatically approximate your current location. Additionally you have the option to manually input your location through a specific address business name or a preset "Placemark" (a bookmarked location).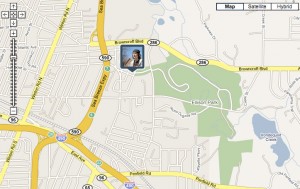 After Checking In on BrightKite through a web browser, you will see a map of your current location and a list of other BrightKite users who have recently checked in around you. Once you have added friends, you will also see their activity in your Placestream. You can then explore what your friends or other people are doing in more detail, view photos or notes they posted and even browse individual user profiles. The same applies if you are accessing BrightKite from one of the many supported mobile devices.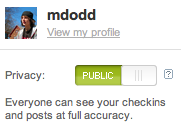 If you consider your location to be sensitive information (which you probably should), BrightKite makes it simple to hide anything you don't want others to see by allowing your information to be displayed either publically or privately. Beyond that, you can set many levels of privacy and accuracies that can even extend to your friends on an individual basis.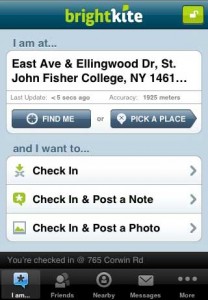 With the native BrightKite iPhone application, you can do virtually anything the full BrightKite website can, and on an iPhone 3G, the GPS hardware makes posting your location downright awesome. The application is very attractive, easy to use and doesn't compromise any functionality.
In summary, BrightKite's unique offerings make it a noteworthy social network, although it probably won't replace Twitter or Facebook. While BrightKite is still currently in beta, if you go to their website and enter your email address, you can get an invite within about 24 hours (usually less).