15
08
2008
10 years ago today, Apple shipped it's very first in the line of its new generation computers. This new computer set Apple apart from the rest of the previously all beige Apple lineup. The new sleek all-in-one computer was the first of its kind. As Steve Jobs said when introducing the new iMac; "Today, I'm incredibly pleased to introduce iMac, our consumer product. And iMac comes from the marriage of the excitement of the internet, with the simplicity of the Macintosh."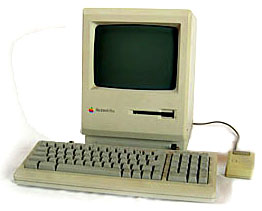 The introduction of the iMac computer brought Apple to new heights. It was the first computer to come in color, Bondi Blue, other than beige. The release was a breath of fresh air into the Apple lineup. Before Steve Jobs return to the company in 1997, Apple tried to rejuvenate their lineup with new inventions such as the Newton PDA and the Taligent project. While the Newton failed from a financial stand point, it was a big technical step for mobile computing and set the way for future PDA's such as the Palm Pilot and eventually the iPhone.
The original iMac was designed by Johnathan Ive, famed designer of the iPod and iPhone. The iMac sold 800,000 units in its first five months. Predecessed by the second generation, slot loading iMac G3 in 1999 the iMac G4 again set another new standard in design. The iMac G4 came with a base made the shape of half a sphere with a LCD screen attached by a rotating metal pole. Many people considered this to be another large leap in the shape and design of computers.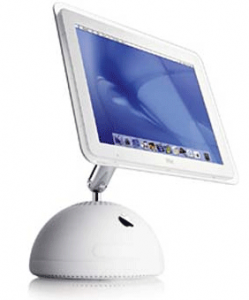 The design of the iMac G4 was soon abandoned for the design of the iMac G5. A sleek, plastic, 3″ think, all-in-one computer. One of, if not the first, sleek all-in-one computers. Starting out with a 1.6 GHz G5 PowerPC processor, it truly was the best and most innovative in its class. It also included 256 MB of RAM which was upgradable to 2 GB of RAM. And while many might think this is small and insuffuficent, Panther only required a minimum of 128 MB and a G3 processor. So thus the new iMac G5 easily surpassed the requirements of it era.
The iMac G5 was later redesigned into what we know today. The first Mac to get an Intel processor at Macworld 2006, the G5's design was later redesigned into an even sleeker 1.24″ think metal case. It now has up to 4 GB of RAM, comes with either a 20″ or 24″ screen, and has a processor with speeds of up to 3.06 GHz! With its enhanced preformance, the iMac has become one of Apple's most popular desktop offering.
With Apple constantly redefining the technology industry, we are always looking for their next big wonder to be unveiled. staring with a simple little computer made in Steve Jobs' garage, Apple has grown to be more than just as computer phenomenon, but a god in the technology field. And with the iMac now 10 years young, who know what we can expect next.