18
08
2008
Here are some notes from the 2.0.2 firmware update installation.
Here are my notes, in chronological order since installation:
Downloading the firmware took about 15 minutes on a 5 Mbit/s / 1.5Mbit/s connection. FiOS has me spoiled at home.
My iPhone update took about 10 minutes. Note that I have recently synced and backed up my iPhone with my computer about 15 minutes prior to the installation.
Taking a screenshot just froze my iPhone while in Settings. It eventually quit and brought me back to the dashboard.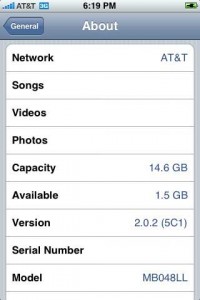 More updates coming soon.
Comments :
No Comments »
Categories :
News