10
10
2008
New Apple laptops are on are their way!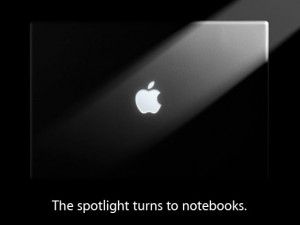 Thursday, Apple sent out invitations to the media for the rumored October 14th event. This event is expected to contain the release of new MacBook's. Rumors have been flying around for about 2 months that the new MacBook's will have aluminum casing similar to the MacBook Pro's and earlier PowerBook cousins.
The event is to be held at 10:00 in Cupertino at Apple Town Hall. Apple Town Hall has been used for other special events such as the introduction of Aluminum iMac's in July of last year.
Invitations were set to different media personnel with a picture of the supposed new MacBook's with what appears to be aluminum casing, and a caption saying "The spotlight turns to notebooks."
Stay tuned to The iLife for more information on the event.